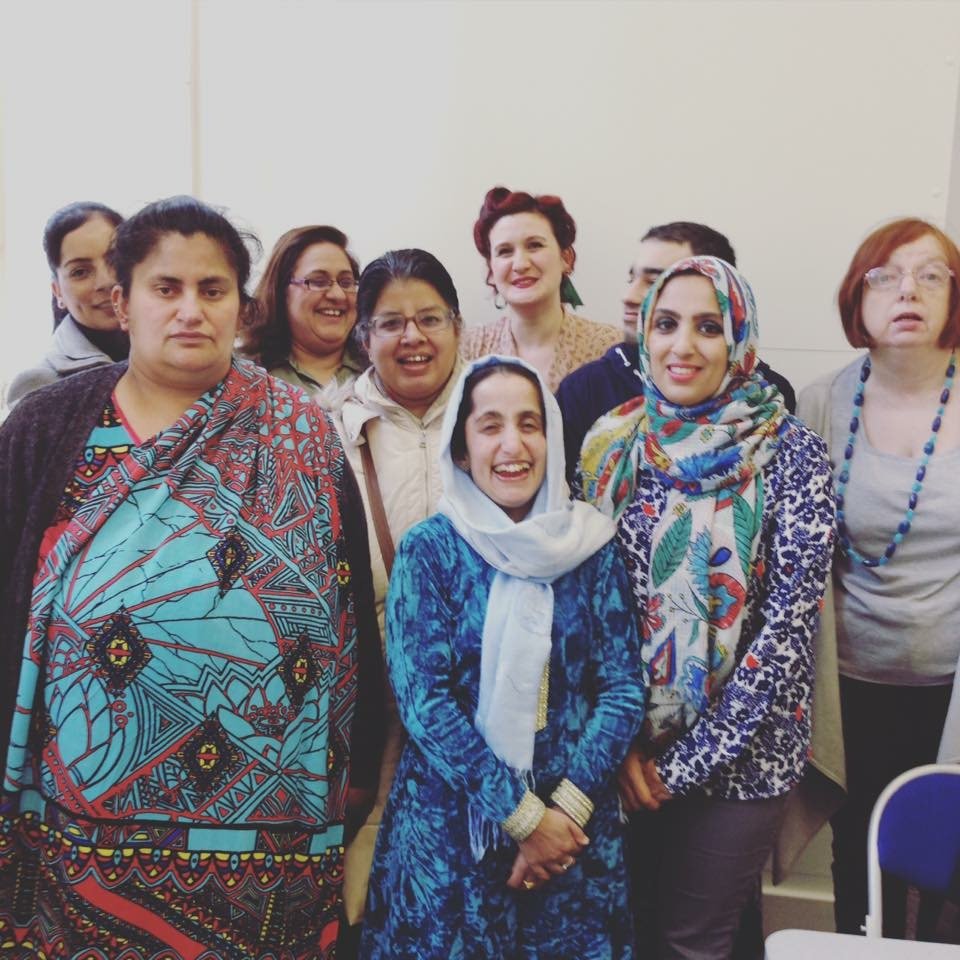 Award winning Community Collaborations with Nayi Zindigi 2016 – 2017
Examples of two projects here where I received a Rotherham Together Partnership Ambassador award commended for outstanding quality in community engagement.
Showcased at the official annual Holocaust Memorial Service in Rotherham – Love Is Louder Festival Of Angels (REMA)
Nayi Zindigi – New Life is a group which through creative activities empowers and inspires individuals from all ethnic minorities with disabilities.
Love Is Louder is a pro love, anti hate campaign promoting kindness and supporting all communities an initiative by REMA.
REMA is the infrastructure support organisation for the Black and Minority Ethnic Voluntary and Community Sector of Rotherham.
We were asked to make Angel Wings as part of The Festival Of Angels and Love is Louder project. Our wings include embroidery representing the four key Angels in Islam and celebrate bright and wonderful diversity by the use of traditional Asian patterns, braids, lace and colours, all sourced in Rotherham.
I was awarded the Rotherham South Area Assembly Devolved Funding Rotherham to make this possible with in kind support from REMA-Rotherham Ethnic Minority Alliance
Project For Peace – Love Is Louder
"As-Salaam-Alaikum" Peace Be Upon You | A creative collaboration between Nayi Zindagi and Love is Louder
As-Salaam-Alaikum Peace Be Upon You is the universal greeting that all Muslims use…how beautiful to meet and greet in this way…a greeting of love, peace, family, respect and unity… Nayi Zindagi chose to use this expression of peace to create a Peace Shield…an ode to flower power, a light hearted, fun piece of work to celebrate and highlight that "Islam Is Peace" A commission for Love is Louder This is all hand made by the group and its volunteers and I think they have done a wonderful job! In particular Nasreen our embroidery queen! She has hand stitched beautiful designs and arabic proverbs of peace and protection to surround the piece all arabic supplied by Salma our lovely volunteer. We communicated through sign language and embroidery! Creativity has no boundaries at all.
Volunteers who support Nayi Zindagi brought in their lovely children as young as 5 years old. They designed and created a quilt that expresses our muslim youths feelings about our current worldwide issues. A bright and bold celebration of peace and unity.