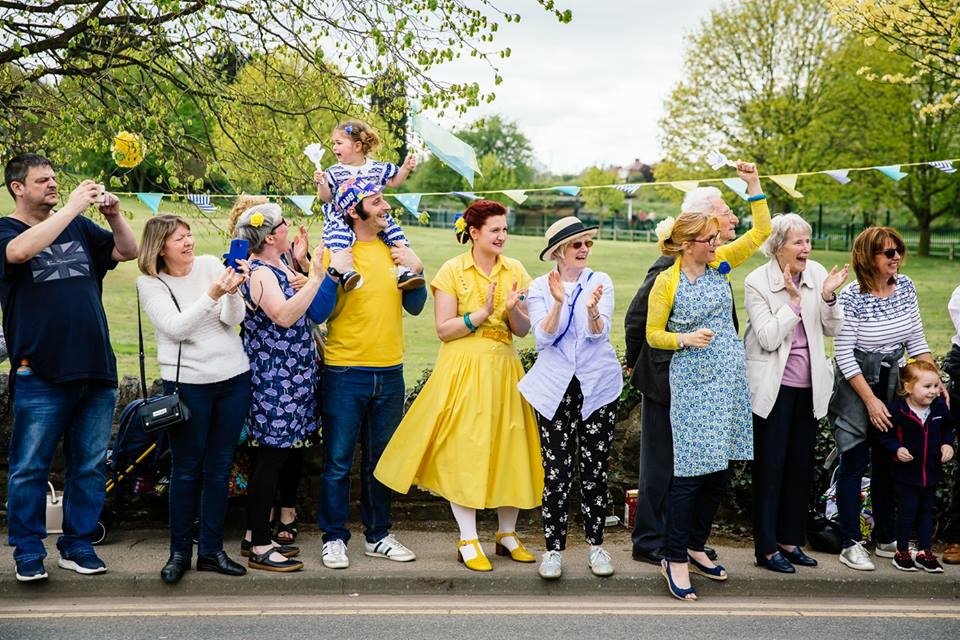 The Tour De Yorkshire – TDY
March-May 2018
Great Place Artist Commission
Artist Commission – Mass mobilisation of the village of Elsecar. Using historical images of the Royal Visit to Elsecar I developed a unique way to engage the village and surrounding areas to recreate the decorations found on the images. A hundred strong team of volunteers were recruited through canvasing by foot, posters, radio, flyering, door knocking and local press. A real unique celebration of using community to showcase local heritage and tradition. Large scale partnerships were made with local residents, schools, forge partnerships, village councils. The whole village was transformed into a sea of blue and yellow. My largest installation to date. The work gained international coverage on TV, Radio and press and was nominated for numerous awards. Community cohesion at its best. A great experiment into how an artist can work as a creative catalyst to empower and give pride to the community it works within. All ages engaged and workshops acted as a tool to help many residents loving in isolation be part of something and feel valued.
This project wouldn't have been possible without the help of over 70 volunteers. Big thanks to Chris Arnold who worked by my side until the very last minute seconds before the bikes whizzed by! Thank you Janet Morris, Barbara Arnold, Joanne O'Conner, Louise McKennng, Mick, Kate Saunders, Annabelle Vernon, Martin, Hazel and The Tidy Team, Neil and Forge Community Partnership and Tegwen Roberts and HAZ Aga Michalik and the Great Place team…so many more to thank!
Great Place is a project funded by Heritage Lottery Fund (HLF) and Arts Council England (ACE), looking at the heritage, culture and community engagement. Over three years the funding will deliver a range of exciting cultural activity, inspired by the rich history linked to the fascinating Wentworth Woodhouse and Earl Fitzwilliam's industrial empire at Elsecar. Our vision is to raise the aspirations of young people in the local area and help them achieve their potential using new, innovative channels of engagement.
Great Place is led by Barnsley Council, representing a close partnership with Rotherham Council and Wentworth Woodhouse Preservation Trust.