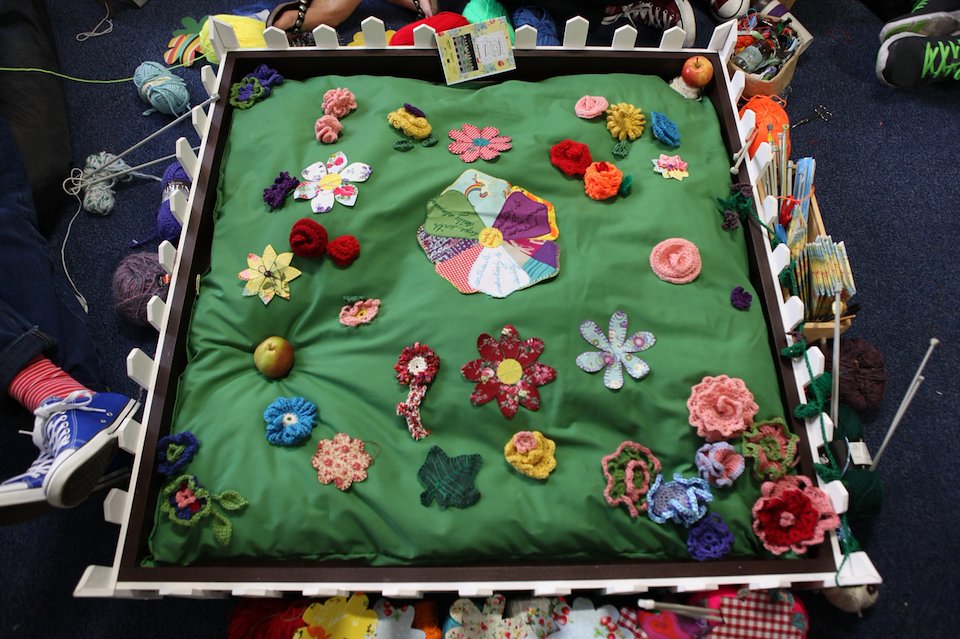 Wellbeing Research | Workshops | Exhibition | Publication
2014 | 2015
Craftivist Garden #wellMAKING is a participatory project run by Dr Fiona Hackney and Dr Ann Roberts, Falmouth University in collaboration with Craftivist Collective, Voluntary Arts and Arts for Health Cornwall, which aims to highlight the health benefits of crafts through creative making, critical thinking, reflection and storytelling. It is funded by the Arts & Humanities Research Council (AHRC) and developed from a number of collaborative research projects exploring crafts and wellbeing. The symposium 'Beyond the Toolkit', held in February 2014 at Falmouth University, was the seedbed for Craftivist Garden. Speakers and delegates called for urgent action to raise awareness about crafts' distinct social and therapeutic benefits. Sarah Newton, M.P for Truro and Falmouth, and a creative crafter herself, endorsed this project at this event and the very real value that crafts activities can have for wellbeing and health. Craftivist Garden takes the flower garden as a metaphor for creative flourishing. It was launched at the AHRC Connected Communities Cardiff Festival and in London in July 2014, and in collaboration with volunteer facilitators worked with groups in Cornwall and across the country to craft flowers, make gardens and gather stories about creative making and wellbeing. The flowers and stories have been gathered together in a published WellMAKING Manifesto and Booklet. A thousand flowers were displayed in a 'pop up flower bower' installation at the Craftivist Garden Party held at Toynbee Hall in January 2015, to which all participants were invited to hear speakers, make flowers and share their stories.
Craftivist Garden has received a great deal of support, funding and promotion from Voluntary Arts England and Arts for Health Cornwall, among others. Numerous crafts magazines and journalists have featured and written about the project.
My self and The Button Tin was one of the nationwide venues and workshop facilitators that lead some of the many sessions and had a collective and collaborative input in the research presented. The Button Tin featured in the printed publication also.